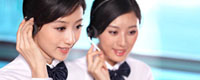 Name: Cassie.Huang
Tel: +86-755-27864416
Mobile: +86-15989366182
E-mail: cassie@rxxdisplay.com
Skype: cassie_1191
QQ: 2850818618





Company News
>> MICLEDI co-develops full-color microLED displays with QustomDot 19th,May,2023
QustomDot and MICLEDI have announced a joint development plan to utilize QustomDot's color conversion technology to develop full-color microLED displays. This new technology is well suited to meet the growing demand for compact, energy-efficient microdisplays in today's AR applications.
MICLEDI co-develops full-color microLED displays with QustomDot
microLED arrays for multi-colour QD integration, image credit: MICLEDI Microdisplays
MICLEDI Microdisplays, a fabless company developing microLED display modules for the AR market, was born out of the Belgian Nanoelectronics and Digital Technology Research and Innovation Center (IMEC) in 2019, according to the company. MICLEDI's technology is based on an innovative combination of III/V material processing, 3D integration, and 300mm silicon-based processing, combined with proprietary ASics, to deliver a standalone, compact monolithic AR display with high image quality and power efficiency.
While QustomDot is focused on quantum dot (QD) color conversion, the team combines QD synthesis, surface engineering, and ink/photoresist formulation into the pattern color conversion layer of microLED displays.
The partnership will see the two companies demonstrate a microdisplay together. The display provides a new architecture that uses stable RoHs-compliant QD materials for efficient color conversion. The display will be produced using high-throughput QD transmission and patterning techniques on micron-sized pixels.
QustomDot has developed a patented method to produce high quality and stable QD materials suitable for microleds. Willem Walravens, chief technology officer at QustomDot, points to new quantum dot (QD) materials for color conversion as a key disruptive innovation. Its patented method is effective for microLED applications, which will accelerate related product development in this untapped market. Professor Geert Van Steenberge, head of the research and development team of Imic-Ugent, said that the team will continue to improve pixel resolution, uniformity and process production.
And MICLEDI, which is making microdisplays on 300mm wafers, has developed a new pixel architecture that is optimized for high aperture (> 60% aperture, 3μm pixel pitch), which the company says is key to achieving high brightness using quantum dots. "We are pleased to leverage IMEC's extensive technical background and expertise in the field of high resolution graphics and transfer to support the development of new microleds," said Dr. Soeren Steudel, MICLEDI CTO.