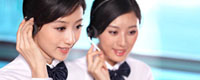 Name: Cassie.Huang
Tel: +86-755-27864416
Mobile: +86-15989366182
E-mail: cassie@rxxdisplay.com
Skype: cassie_1191
QQ: 2850818618





Company News
>> 2022 Small pitch LED Display market analysis report 23th,March,2023
The technical threshold has been raised, and the industry concentration has increased
In the early stage of LED display industry, there are many entrants, the industry threshold is low, and the industry concentration is low. With the emergence of small-space LED, the technical barriers to entry of the industry are increased, and it is difficult for enterprises in the traditional display industry to enter, and the industry concentration is constantly improving. At present, the market competition pattern of the small-space LED industry is relatively stable. The leading leading manufacturers of large-space LED in China, such as Liade, Zhou Ming Technology, Qiangjun Jucai, Lianjian Optoelectronics and Abison, basically monopolize the market, with a total market share of more than 80%.
Will Mini LED mass production compress or even replace the small pitch LED market?
Mini LED is the point spacing is smaller than small spacing products, simple is the advanced version of small spacing. However, in terms of technology and market, the small pitch market will not be replaced in the next 3-5 years.
From the perspective of the market, the main application field of small pitch is still in the professional display market for liquid crystal and DLP continuous replacement; There are two main applications for Mini LED display: LCD display backlight application and self-lighting LED display application. There is no doubt that Mini LED in the field of backlight application and LCD form a perfect combination, will be the first to form a breakthrough. Mini LED commercial application market and small Pitch do not overlap, the two complement each other, Mini LED can complement the small pitch has not covered the new application market.
From the perspective of cost, although MIni LED has achieved mass production, its self-lighting display application still has a lot of room to fall in cost, and large-scale application will take time.