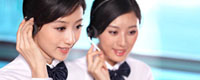 Name: Cassie.Huang
Tel: +86-755-27864416
Mobile: +86-15989366182
E-mail: cassie@rxxdisplay.com
Skype: cassie_1191
QQ: 2850818618





Company News
>> By way of "learning"! Samsung Display is exploring maskless OLED panel production technology 22th,Sep,2022
It is reported that a Samsung Display executive recently visited the U.S. headquarters of its equipment supplier Applied Materials (Applied Materials) and discussed Japan Display (JDI)'s maskless deposition ambient positive lithography (eLEAP) technology, which The technology is characterized by extremely long life, low power consumption and high brightness.
The Samsung Display executive also discussed microdisplays, or displays under an inch, with Applied Materials, they added.
In May of this year, Japan Display launched eLEAP technology, but it has not yet been commercialized, and JDI is applying for a patent for it. The unique feature of this technique is that it does not use a mask. The "eLEAP" panel technology is manufactured using "evaporation + photolithography". Compared with traditional products, the panel has a special light-emitting structure, and the light-emitting area and peak brightness are enlarged by 2 times and the lifespan is extended by 3 times.
By way of "learning"! Samsung Display is exploring maskless OLED panel production technology
Image source: Applied Materials official website
Samsung Display and other OLED panel makers currently use fine metal masks (FMMs), which are based on the principle of depositing red (R), green (G) and blue (B) organic materials in vapor form on a substrate.
However, these masks are often difficult to manufacture, and their quality also determines the yield of OLED panels, which is the situation facing 6th generation (1500x1850mm) OLED panels. Currently, Japan's Dai Nippon Printing, still the world's largest mask maker, typically uses etching technology to make FMMs.
The quality of the FMM will determine the yield of the 8th generation (2200×2500mm) OLED panel that has not yet been commercialized, so this is actually a very sensitive issue for Samsung Display. And if there's a more convenient way to produce these panels without masks, there seems to be no reason for Samsung Display not to.
Japan Display claims that eLEAP can be used for 6th and 8th generation OLED panel production. Japan Display is one of Samsung Display's competitors, which may be the reason why Samsung Display indirectly "borrowed" eLEAP technology from Applied Materials, which provides deposition equipment for it. It is reported that during the visit, Samsung Display conducted consultations and consultations on eLEAP characteristics and feasibility, equipment manufacturing direction, etc. Since Applied Materials supplies equipment such as vertical vapor deposition machines to Japan Display, it may have "eLEAP" technology evaluation data.