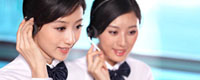 Name: Cassie.Huang
Tel: +86-755-27864416
Mobile: +86-15989366182
E-mail: cassie@rxxdisplay.com
Skype: cassie_1191
QQ: 2850818618





Company News
>> Tianma's research and development of LCD screen technology is expected to be equal to OLED 7th,July,2021
Zhihuixinlian received more than 50 million yuan in Pre-A round of financing, focusing on the field of UHF RFID chips
Zhihuixinlian Microelectronics recently completed a Pre-A round of financing of more than 50 million yuan, led by Guoxing Venture Capital Fund, Qingyuan Investment, Huaben Venture Capital, and Guanda Holdings Co., Ltd., this round of financing will be used for Super High Mass production of high-frequency RFID chips. Founded in 2018, Zhihuixinlian focuses on the field of low-power, high-reliability IoT chips, and has launched a number of domestically produced UHF passive RFID electronic tag chips. It is reported that its product performance is comparable to similar foreign products, and has been fully verified on the client. It is reported that the company's core technical teams are from top IC companies at home and abroad, with an average of more than 15 years of experience in R&D and mass production. The leading design and mass production chips have repeatedly broken through foreign monopolies to achieve domestic substitution and have been widely adopted by the market.
The third generation of semiconductors is another city! Huawei Hubble invests in silicon carbide company Tianyu Semiconductor
Recently, Dongguan Tianyu Semiconductor Technology Co., Ltd. has undergone a business change and a new shareholder, Shenzhen Hubble Technology Investment Partnership (Limited Partnership). Tianyu Semiconductor was established in 2009. Its official news shows that the company is the first domestic high-tech enterprise specializing in the research and development, production and sales of third-generation semiconductor silicon carbide (SiC) epitaxial wafers, and it is the first silicon carbide semiconductor material in China. Companies in the supply chain have obtained automotive quality certification (IATF 16949). In 2010, Horizon Semiconductor and the Institute of Semiconductors of the Chinese Academy of Sciences jointly established the "Silicon Carbide Technology Research Institute", forming a top domestic technological innovation team.
Hongtai Technology completes a new round of financing exceeding 100 million yuan
Recently, Hongtai Technology successfully completed a new round of financing of more than 100 million yuan. This round of financing was led by Yida Capital. Silan Ventures, Ginkgo Valley Capital, and Junxin Capital participated in the investment. Old shareholders Shengyu Investment and Delian Capital continued to increase hold. This round of funds will be mainly used for the research and development, market sales promotion and operating capital supplement of SoC test systems, power semiconductor test systems and a new generation of high-speed turret sorting machines. Hongtai Technology is a high-tech company specializing in the development of semiconductor test equipment and providing test solutions. Its main customers include first-class semiconductor packaging and testing manufacturers and design companies at home and abroad. It is a leading supplier of semiconductor back-end equipment solutions in China.
Tianma is developing LCD under-screen technology, which is expected to be evenly matched with OLED in the future
As we all know, LCD and OLED have their own advantages. LCD has a longer life, no low-brightness stroboscopic and burn-in problems, higher pixel density under the same resolution; while OLED has high response speed, ultra-high contrast, brighter colors and thinner thickness, and more Power saving, and can be bent arbitrarily, no light leakage problem. As early as 2020, Tianma Microelectronics has demonstrated the fingerprint under the LCD screen. The scheme integrates the fingerprint recognition module in the LCD panel, which is the world's first multi-point fingerprint recognition solution in the LCD screen. The TFP solution can customize fingerprint control and APP encryption and unlocking, especially supporting fingerprint recognition in any area of ​​the full screen, which is currently not available in the fingerprint solution under the OLED screen.