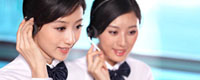 Name: Cassie.Huang
Tel: +86-755-27864416
Mobile: +86-15989366182
E-mail: cassie@rxxdisplay.com
Skype: cassie_1191
QQ: 2850818618





Company News
>> The world's smallest mass-produced Mini-LED was born in Wuhan
On November 13th, at the 16th "China Optical Valley" International Optoelectronics Expo held in Wuhan, Wuhan Optoelectronics Research Institute and incubator Hua Yinxin Technology jointly released the Mini-LED chip-scale packaging products independently developed. It is also the smallest Mini-LED that can be mass-produced in the world.
Mini-LED, also known as "sub-millimeter light-emitting diode", generally refers to a flip-chip LED chip with a chip size of 50μm-200μm for display applications, which is slightly larger than Micro-LED, bridging the traditional LED and Micro -Technology and application gaps between LEDs.
The world's smallest mass-producible Mini-LED chip under a magnifying glass of 10 times
The Mini-LED package product released on the same day has a specification of 380μm × 380μm and the product thickness is less than 200μm. In the "three-in-one" method, the chips that display red, green and blue lights are packaged in a lamp bead to form a unit Full-color pixel light source with independently controllable dots. The pixel pitch can be as low as 0.5mm, which is also the limit value of the dot pitch that can be achieved by the current RGB self-luminous display application Mini-LED.
Sun Leimeng, chairman of Hua Yinxin, introduced that this mass-produced product can be regarded as an independent component. All major module factories only need to purchase packaged lamp bead modules to customize display or backlight design according to application needs. Lowered the application threshold of technology and accelerated the pace of Mini-LED entering the display world in an all-round way.
Mini-LED has two main applications in display, one is used as a self-luminous LED display, and the other is used as a direct backlight light source. The Mini-LED module released this time is involved in two aspects, namely "display directly on the large screen and backlight on the small screen", and focus on the backlight light source, including e-sports display, car panel, pad, mobile phone, TV For the application market with high requirements for ultra-clear image quality, high contrast and refresh rate.
For LCD display, the backlight is an important guarantee for its key display indicators such as contrast and color saturation. This Mini-LED product fully meets the characteristics of low energy consumption, high contrast, high brightness, and thinness and lightness, which can make the LCD display using it as a backlight light source not only better in brightness, but also in contrast, color reproduction and Energy saving can be compared with the top OLED screen, but the price is still lower than the OLED screen.