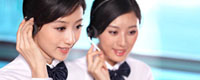 Name: Cassie.Huang
Tel: +86-755-27864416
Mobile: +86-15989366182
E-mail: cassie@rxxdisplay.com
Skype: cassie_1191
QQ: 2850818618





Company News
>> The concentration of LED display industry is getting higher and higher, how can screen companies decide the victory in this competition? 4th,March,2020
The ups and downs of the LED display market in 2019 are affected by the overall economic environment. The market situation of the LED display industry is also grim. At the same time, competition within the industry is becoming increasingly fierce. Already. It is foreseeable that in the next few years, industry resource integration, passive or active corporate mergers and acquisitions reorganization, and increasing brand concentration will bring major adjustments to the LED display application industry pattern in the future. It will also be the general trend and the competitive advantage will be Further closer to enterprises with technological advantages, channel advantages, and scale advantages.
Motorola Moto E6 Plus comprehensive review: entry-level models with super high cost performance
LED screen companies' industry concentration continues to increase
At present, the LED display industry is facing many problems: First, the national and government dividends are reduced, and there may be differences in import and export tariffs, which will change the purchasing plans and relocation decisions of many LED display manufacturers. The atmosphere and market uncertainty will curb market demand. Secondly, although the MiniLED / MicroLED process is in full swing and become a new market growth point, the traditional display market continues to fall, development is frustrated, structural overcapacity, and the market is increasingly saturated. And other issues are becoming increasingly prominent. In this "weak meat and strong food" situation, we increasingly feel that the LED display companies' brand concentration is increasing. With the fierce competition in the LED display industry, the integration of the upstream and downstream industry chains in the entire industry is accelerating, and the market concentration is gradually increasing. While the industry as a whole continues to grow, mergers and acquisitions within the industry are accelerating, which has evolved into large enterprises and large-scale competition.
The LED display industry is undergoing various degrees of transformation and global industrial chain integration. The M & A drama in the LED display industry continues to be staged continuously. Mergers and acquisitions can enable enterprises to obtain dominant technologies and resources, and enhance production scale, Reduce production costs; also be able to strengthen market development efforts, and LED display leading companies have strong technology, strong capital reserves invested heavily in technology research and development, production equipment, strengthen enterprise productivity, integrate many excellent supplier resources, and create better quality In the industrial chain, part of the inevitable sales share of SMEs will be eaten away, accelerating the reshuffle integration of the LED display industry, but this does not mean that the SMEs are dying, but it is forcing the current LED Display companies pay more attention to enterprise production optimization and effective resource integration.
Find breakthroughs from technological innovation, channels, and the construction of an ecosystem
Against the background of new policies, new situations, new opportunities and new challenges, efforts to actively seek high-margin market segments and "blue ocean" markets will become the main direction of many enterprises. Brands in segments such as transparent screens, rental screens, and commercial displays are constantly concentrating. Some strong screen companies continue to stand out. With their strong technical advantages, they still maintain a stable market share even when the market price drops. These companies have always focused on a certain segment of the market, and they have become representatives and leaders of the industry segment. They rely on focusing their strengths and attacking them to form breakthrough focus strategies. Some companies are also committed to deepening the channel market. Continuously expand the service scope around the channel market.
In addition, it is increasingly important to build an ecosystem of your own company. In this process, the biggest challenge is how to balance and maintain the relationships and interests of all aspects of the industrial chain such as suppliers, partners, and customers, while being able to obtain superior resources from the outside. For integration. To achieve this, it is a great way to build an open and cooperative platform and create a multi-win-win ecosystem. To gain profits and achieve development, screen companies are no longer the singles that have developed in the past. Instead, they need information communication, efficient coordination, and group development, so as to achieve competitive costs, revolutionary new technologies, continuous and stable quality, and fast and thoughtful services. , Create comprehensive competitive strength, and ultimately create greater value for customers and win a broader market.
Market competition and industry reshuffle are inevitable stages of industrial development. Of course, the LED display industry is no exception. The integration of the industry's upstream and downstream industry chains is accelerating, and the market concentration is gradually increasing. As a result, the brand concentration has continued to increase. The continuous wave of mergers and acquisitions is an important manifestation of the continuous development of the industry. Therefore, in addition to relying on market segments and innovative product technologies to improve product value, LED display companies should also expand to the upstream and downstream of the industry chain to achieve the entire industry. Chain layout, and increase resources integration efforts, improve service levels, and comprehensively improve the technical content of products